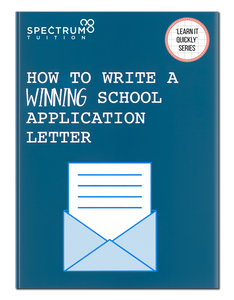 HOW TO WRITE A WINNING SCHOOL APPLICATION LETTER
customers are viewing this product
Note: all packages are delivered as digital books (PDFs). All purchases can be downloaded for immediate use.
Make Your School Application Letter Shine!
The process of preparing for the Victorian Selective Schools exam can be daunting. Firstly, students are required to sit a gruelling 3 hour exam which will test students on concepts beyond the Year 8 curriculum. After passing to a high enough standard, students may find themselves just missing out due to the 5% rule, giving you a second chance of gaining entry.
What is the 5% rule?
The maximum number of students admitted to the four selective schools from any one school must not exceed 5% of that school's year 8 enrolment. For example, if there are 100 students in year 8 at a school, then no more than a total of five may be selected, even though more students may have reached the required academic threshold.
What does this mean for you?
For students who missed out due to their exam performance, approximately 5 percent of students will be offered a place at the principal's discretion based on their co-curricular activities, community service and leadership skills.
What does this process involve?
Students given the opportunity to apply for the principal's discretionary category, are firstly required to write an application letter, similar to an employment cover letter, outlining why they feel they would be a good fit for their chosen school.
The challenge for many students is that, even if they are a 'perfect fit', they may not have the skills or experience to communicate this clearly to their target school.
This is exactly why we created this book.
After helping countless students with their application letter, we have produced a resource that provides you with a structured way to think about the application letter and strategies on how to weave your skills and talents effectively.
More specifically, In this book you'll learn;
* what sort of research you should do to ensure your letter is aligned with the values of the school;
* how to prioritise the content in your letter;
* how to structure your letter
* what 'winning' application letters look like.
Who Is This Book Designed For?
We designed this book for parents and students who are looking for a practical guide to help them structure and write an effective school application letter. This book is particularly valuable to students preparing for:
the selective schools principal's discretionary category application letter
a general admissions letter to a school.
The skills we teach you in this book are universal and provide a great way to learn how to write any school admissions letter.
What Do You Receive In This Pack?
You'll receive one digital book (a PDF) that'll help you prepare for a school interview.
All of our packages are delivered as digital books (PDFs)** **and all purchases can be downloaded for immediate use.
How Should I Use This Book?
This book is an amazing tool that can be used in a short period of time to prepare for what can be a very daunting experience for most students. Feeling confident and prepared is what we aim to do in this succinct and example driven book.
Through a number of different strategies, we aim to help you formulate natural, confident and well structured responses.
All you need to do is follow each short chapter as it guides you through how to structure each paragraph in your letter.
Why You Should Purchase This Book
Often, students are given one week to write an application letter which will hopefully secure them a place at the interview stage. Writing this letter can be stressful, particularly if you have never written one before and especially with such high stakes! We have found that the process is even harder for students who are inexperienced and may lack the tools to prepare and write this letter. We designed this book after helping many different students with this very process over several years to provide students with a broad set of tools they can use for any application letter.
So if you're struggling with where to start in writing a letter to apply for the principal's discretionary category, this is the book for you.