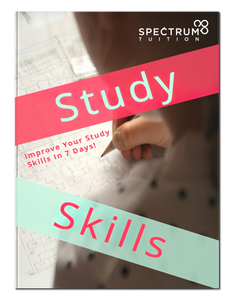 STUDY SKILLS GUIDE
customers are viewing this product
Note: all packages are delivered as digital books (PDFs). All purchases can be downloaded for immediate use.
This book contains a simple 7 day plan to help your child improve their study skills in preparation for their VCE years at school. So if you're concerned about your child's study habits and want to make sure they get the most out of their VCE years this is the book for you! 
Who is the Study Skills book aimed at?
This digital book is designed for students entering their final years of high school (year 11 and 12) who are looking to improve the way they learn. Further, it provides a great way to learn new actionable techniques that the average student can apply to their study regimen to improve the efficiency of their learning.
To make it super easy to follow the book is set out as a simple 7 day program that anyone can implement.
What is this book about?
Does your child ever procrastinate because they don't know what they should be doing next? Do they ever wish they knew how to use their time more effectively during a study session?
If this sounds familiar, our study skills book is for you. Over the years we've spoken to hundreds of very bright students who have simply not been performing to their full potential. After a detailed discussion with them, we often find that it is not an intelligence or aptitude issue that is holding them back but a lack of knowledge of HOW to actually study.
We believe that the secret to success at school is organisation. In fact, most of the time it is those who know HOW to study that succeeded not those who are "smart". The art of learning is something that many schools don't teach their students - the reality is there that there is usually little time to learn how to improve your skills in a hectic school week. However, learning these skills can help students prepare for the complex and often intimidating final years of schools. This is where this digital book shines - it provides the skills that aren't usually highlighted at school.
Why you should buy this book
Every student can do with a little help when it comes to improving their study techniques. In some instances, it can be the edge that they need to get the ATAR they have dreamed about for years.
If you feel you could do with a little extra assistance with your study technique this is the book for you.