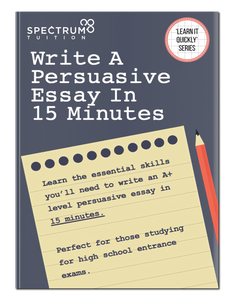 WRITE A PERSUASIVE ESSAY IN 15 MINUTES
customers are viewing this product
Are you looking to improve your persuasive essay writing technique? Want to be able to write a persuasive essay in 15 minutes? Not sure how to approach writing a persuasive essay? If you answered yes to any of these questions then this is the book for you. 
Note: all packages are delivered as digital books (PDFs). All purchases can be downloaded for immediate use.
Who Is This Book Designed For?
This book is designed for any student looking to pick up the basics of writing a compelling A+ level persuasive essay under time constraints - specifically in 15 minutes.
If you're preparing for an entrance exam (e.g. the Victorian selective schools exam or an accelerated learning entrance test) you'll know that a vital part of the exam is the persuasive writing component. This part of the exam is extremely tricky and requires you to craft an amazing response in just 15 minutes!
Having seen many students struggle with this component of the exam, we designed a book to show you a dead simple way to write a compelling a well structured essay in just 15 minutes.
We also understand that many students leave preparation to the last minute. That is why we've made this a short simple and straight to the point book with no 'page filler' - only techniques that work under the 15 minute time constraint.
What Do You Receive In This Pack?
A digital book that'll help you craft a great persuasive essay for a high school entrance exam.
All packages are delivered as digital books (PDFs) and all purchases can be downloaded for immediate use.
How Should I Use This Book?
This book is a awesome tool that can be used to get you writing great persuasive essays immediately.
All you need to do is follow each short chapter as it guides you through the components of a persuasive essay. We also believe that being succinct is important - so this book doesn't have any useless content. We get you writing great essays quickly.
More specifically we cover:
How to plan a persuasive essay using our planning grid template;
How to write a punchy introduction that covers all the bases;
How to write a compelling body paragraphs using the TEEL technique; and
How to finalise your persuasive essay with memorable conclusion.
We have also built into the book a number of highly useful tools and frameworks for you to use. These include:
sentence stems;
sample writing components; and
structured essay templates.
Why You Should Purchase This Book
Writing a persuasive essay is hard. This task is made harder in an entrance exams setting by the fact that students need to do so under restrictive time constraints.
The good news is, that if you have a strong consistent structure with some basic sentence stems ready to use the task becomes 10 times easier. This why we wrote this book to make the task of having to spin up a persuasive essay easy. With this in mind we designed each chapter to be to the point and (most importantly) immediately useful.
So if you're struggling with the '15 minute time barrier', don't know where to start with a persuasive essay or just want a better way to write a persuasive essay under time constraints this book is a must purchase.