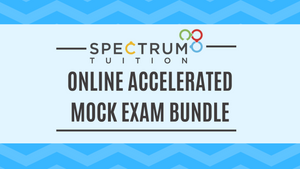 ONLINE ACCELERATED MOCK EXAM BUNDLE
customers are viewing this product
Note: all packages are delivered as digital books (PDFs). All purchases can be downloaded for immediate use.
One of the most difficult aspects of a scholarship exam is answering the questions within the very limited time. By doing a full length test BEFORE the actual exam, you will better understand what the experience will be like so you know what to expect. To help you learn the most efficient technique to answering the questions, full solutions for each question is included PLUS you will gain access to our online workshop where we go over major problems and concepts students encountered during our live mock exam.
In this package, we've bundled together
Our full length 2.5 hour mock exam (following the EDUTEST structure)
Worked solutions to all multiple choice sections
A sample analytical and creative essay based on the prompts; and
A recording of our mock exam workshop, run by our founder Thuy Pham and one of our senior content creators, Chris Edwards.
During the workshop, we run you through major areas of difficulty and common problems students encountered during the live mock exam providing you with a general overview of each area covered (7 videos in total and over 2.5 hours of content!).
This mock exam bundle is for you if:
You're currently in Year 6 and will be sitting a scholarship/ entrance exam that follows the EDUTEST structure.
You want to familiarise yourself with the exam structure and specific strategies to answer questions BEFORE test day.
You want to feel more confident heading into the exam.
You want to learn how to manage your time
You want to learn how to answer questions quickly within the allotted time
You want useful tips to help you perform better on the exam.
Why you should purchase this exam package:
This package will prove to be a great tool if your child hasn't completed many (or any!) exam style questions or full length practice tests, and needs to become familiar with exam timing.
The detailed answers and video workshop will also provide further guidance on how to solve all the tricky questions presented in the exam paper in the most efficient way possible. It is particularly useful for students who may have started preparing and who need some extra guidance around specific areas on the exam.
This package is also useful as it allows you to simulate a full exam to help you improve your timing during the real test. Numerous students have also used this pack as a diagnostic tool to guide their study in the crucial final weeks before the actual test.
Note: this bundle is hosted on the online platform Teachery. After you make your payment, you should receive an email with your login details within 10-15 minutes. Make sure to check your spam folder, in case the link has ended up in the wrong place. If you have any questions, please email enquiries@spectrumtuition.com or call us on 1800 668 177.