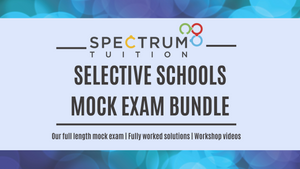 SELECTIVE SCHOOLS ONLINE MOCK EXAM BUNDLE
customers are viewing this product
Want To Experience The Spectrum Tuition Mock Exam From The Comfort Of Your Own Home?
In previous years, students have stated that one of the most difficult aspects of the exam is answering the questions within the very limited time. By doing a full length test BEFORE the actual exam, you will better understand what the experience will be like so you know what to expect. To help you learn the most efficient technique to answering the questions, full solutions for each question is included PLUS access to our online workshop where we go over major problems and concepts students encountered during our mock exam.
Note: all packages are delivered as digital books (PDFs). All purchases can be downloaded for immediate use.
In this package, we've bundled together:
Our full length 3 hour mock exam (including all six sections covered on the Victorian Selective Schools Exam);
An answer booklet containing FULLY worked solutions for each question
The answer booklet will also contain a sample analytical and creative essay based on the prompts; and
A recording of our mock exam workshop, run by our co-founder and selective schools exam expert, Thuy Pham. During the workshop, Thuy runs you through major areas of difficulty and common problems students encountered during the mock exam providing you with a general overview of each area covered (7 videos in total and over 2.5 hours of content!).
Who Is This For?
This bundle is designed for Year 8 students sitting the Victorian Selective Schools entrance exam looking to gain entry into Melbourne High, MacRobertson Girls'. Suzanne Cory High or Nossal High.
This pack is specifically geared towards students who are looking to practice all the exam components to gauge their performance BEFORE the test day. We've found that many questions on these exams may be completely unfamiliar to students and this will cause a major loss of time if students are stuck on particular questions. It is therefore essential that students practice as many of these questions prior to the test day as possible to give them the best chance of achieving success. This, combined with our detailed answers and workshop videos tend to give students the extra edge and confidence they need prior to sitting the Victorian Selective Schools exam.
What Do You Receive In This Bundle?
This bundle includes:
1 x full Selective Schools exam package (covering all 6 exam sections: numerical reasoning, verbal reasoning, mathematics, reading comprehension, narrative and analytical writing prompts)
1 x FULLY worked solutions book containing all the sections covered in the mock exam
2 x sample essays (one creative, one analytical) PLUS detailed instructions walking you through the process of writing winning essays within the very limited 15 minute timeframe.
7 x videos from our Mock Exam workshop (over 2.5 hours of content) covering major problems uncovered during the mock exam this year. In these videos, we go through each area and discuss the most important topics as well as common errors that students made on the mock exam. We also do a review of the key skills students should be focusing in on prior to exam day.
Note: this bundle is hosted on the online platform Teachery. After you make your payment, you should receive an email with your login details within 10-15 minutes. Make sure to check your spam folder, in case the link has ended up in the wrong place. If you have any questions, please email enquiries@spectrumtuition.com or call us on 1800 668 177.