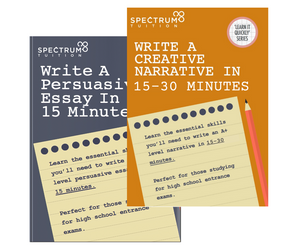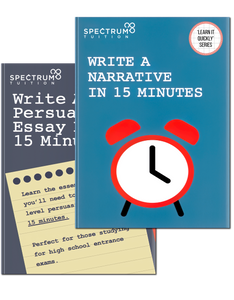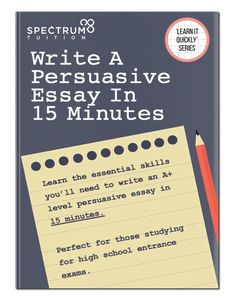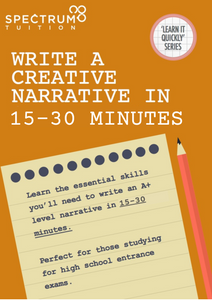 WRITING BUNDLE
customers are viewing this product
Are you looking to improve your persuasive essay and narrative writing technique? Want to be able to write a persuasive or a narrative essay in 15 minutes? Not sure how to approach writing a persuasive and narrative essay? If you answered yes to any of these questions then this is the book bundle for you. 
Note: all packages are delivered as digital books (PDFs). All purchases can be downloaded for immediate use.
Who Is This Bundle Designed For?
We specifically, designed this bundle to help students who are anxious about the writing component of any selective entry exam that requires a narrative and persuasive essay to be written under strict time constraints.
Included is our best selling persuasive essay and our newly released narrative guides. Both these books are designed to provide you with a quick and effective way to prepare for the a selective exam. In fact we have specifically optimised each one to only include content that will assist you learn the skills to write great content quickly.
What Do You Receive In This Pack?
Two digital books that'll help you craft an amazing narrative and persuasive essay for an entrance exam.
All packages are delivered as digital books (PDFs) and all purchases can be downloaded for immediate use.
How Should I Use This Book?
This books are an amazing tool that can be used to get you writing compelling and memorable narratives and persuasive essays in 15 minutes.
All you need to do is follow each short chapter as it guides you through each components. We understand people are busy and want to optimise each minute of their time when preparing for an exam, this is why our books are succinct and focus on impact - not pages.
If you'd like to find out more about each book check out the information here:
Why You Should Purchase This Book
Writing a compelling piece of writing is hard. This task is made harder in an entrance exams setting by the fact that students need to do so under very restrictive time constraints.
The good news is, that if you have a strong consistent structure with some basic samples to show you how to put it all together the task becomes a lot easier. This why we wrote these books. With this in mind we designed each chapter to be to the point and (most importantly) immediately useful.
So if you're struggling with the '15 minute time barrier', don't know where to start or just want a better way to write a great narrative and persuasive essay under time constraints this bundle is a must purchase.